This is not your ordinary, run-of-the-mill concert, on October 4 you can step inside the gorgeously gothic interiors of Manchester Cathedral and experience a magical night of live music. Following two support acts that are sure to get you grooving on the marble dance floor, Tunde Baiyewu from the 90s duo Lighthouse Family will take to the stage with his smooth, soulful vocals. Listen to hits such as Lifted and High while soaking up the historic features of this storied venue – the striking combination of architecture and timeless music is sure to make the event one to remember.
Top of the Pops fans, 90s music lovers and admirers of honey-dipped vocals may already be familiar with Lighthouse Family. After meeting while working on the bar scene, singer Tunde Baiyewu and keyboard player Paul Tucker started writing and recording together and released their debut album Ocean Drive which helped launch them into the music spotlight. They have sold over 15 million albums, had a number of top 10 hits in the UK charts and multiple sell-out tours.
This October, Tunde will bring their much-loved songs to melodic life under the nave roof and instrument-clutching angel sculptures of Manchester Cathedral. It's not just Lighthouse Family hits you'll be treated to, the velvet-voiced singer has recently been throwing it back to the 70s. A decade when singer-songwriters thrived and disco reigned supreme, with the likes of Elton John, Van Morrison, Cat Stevens, Barry White and more gifting the musical world with lyrical hits. Tunde will perform a collection of these throwback tunes with his own vocal spin – you'll be singing and dancing along in no time.
From the moment you step inside Manchester Cathedral, you'll be transported back through the centuries. The building is a time capsule to the past, with frescoed ceilings, stained glass windows and medieval wooden furnishings all speaking to the fascinating history that surrounds one of Manchester's oldest buildings. Now, imagine as night falls, all those features illuminated with vibrant lights as fun-loving groups of Lighthouse Family fans and music lovers flock through the gothic arches and onto the dancefloor. You might want to grab tickets today to ensure you don't miss out on this one-of-a-kind experience with the talented Tunde Baiyewu.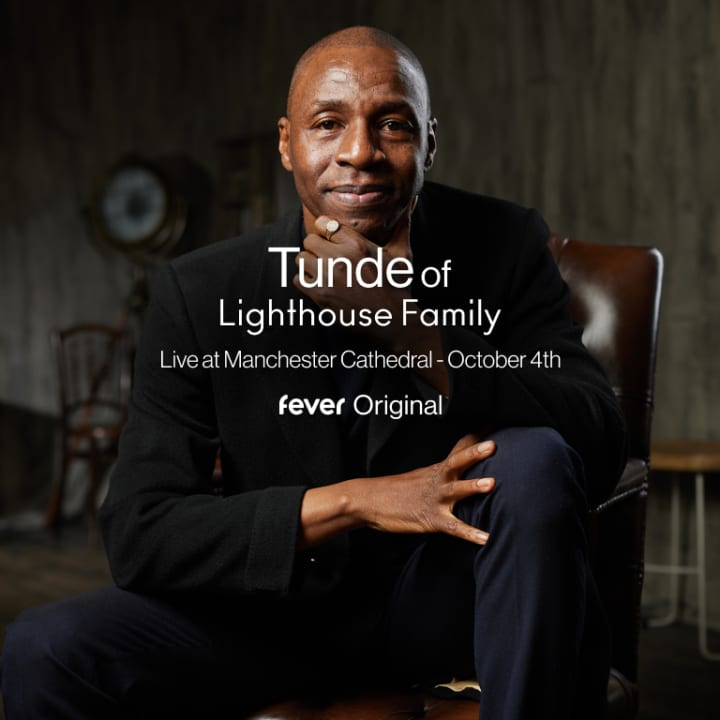 Tunde of Lighthouse Family Live at Manchester Cathedral
October 4, 2023 6:00 PM
From £27.50
---