Halloween tends to split the wheat from the chaff in terms of those who enjoy the lighter side (think a cosy evening watching Halloweentown, bopping along to the Monster Mash with a pumpkin spice latte in hand), and those who live for a proper scare. The latter group will likely be searching for, if not already booked on to, a good few ghost tours, whether it be scouring the streets of Manchester, or exploring particularly renowned buildings; so here's our guide to ghost tours in Manchester for the horror film-watching, haunted house-visiting Mancs in the room – not the faint hearted.
1. Ordsall Hall Ghost Hunt
Ordsall Hall is a historic house and a former stately home, dating back more than 820 years, although the oldest surviving parts of the present hall were built in the 15th Century. The most important period of Ordsall Hall's life was at the family seat of the Radclyffe family, who lived in the house for more than 300 years.
Ghost tours at Ordsall Hall, just down the road from Manchester in Salford, can be a terrifying experience, known for the many sightings of the 'White Lady' – most say she is the spirit of Lady Margaret Radclyffe who died, broken hearted, in 1599 after the death of her beloved brother Alexander. Sir John Radclyffe is said to inhabit the star chamber – the former Lord of the Manor is said to very keen on the ladies…
On previous investigations, many guests have reported being touched or pushed and some have reported what appears to be someone touching their face when nobody is present. The attic is a place many refuse to go alone – reports have recalled the feeling of being pushed over the balcony, being watched, sudden temperature drops and the sound of doors being opened. If you're brave enough, you can secure your place with a £10 deposit per person here.
📍322 Ordsall Ln, Salford M5 3AN.
2. Flecky Bennett's Manchester Ghost Walks
We all love weird, wonderful and ghostly stories, and when the stories are based upon well-documented accounts, witness statements and Flecky's own personal experiences, they take on a new life (and death) of their own. Welcome to the weird, wonderful and ghostly world of Flecky Bennett, described as Horrible Histories for adults!
Flecky Bennett is perhaps the most well-known ghost-hunting Manc, having led ghost tours around Manchester for over 13 years now. Of course, there's plenty going on when it comes to Halloween, most of which is already sold out, but you can still grab tickets for the likes of the Didsbury Ghost Walk, Stockport Devil's Night, and the classic Halloween Ghost Walk, with ghost walks available all year round.
Embark on a quest around Manchester by solving clues that will take you to the most haunted places in the city, all with the help of your smartphone. Unlock new stories as you discover on your own Manchester Cathedral, the Palace Theatre, Albert Square, and more. Each clue will lead you from one place to another, giving you exact directions, so you won't need a map, a GPS, or a guide. When you solve it and guess the answer, the secret story of that place is unlocked. Start and stop whenever you want. Along the way, you'll find horror stories that will give you the chills. Dare you go on this tour?
📍Starts at Old Granada Studios, Atherton St, Manchester M3 3GS, UK, M3 3GS.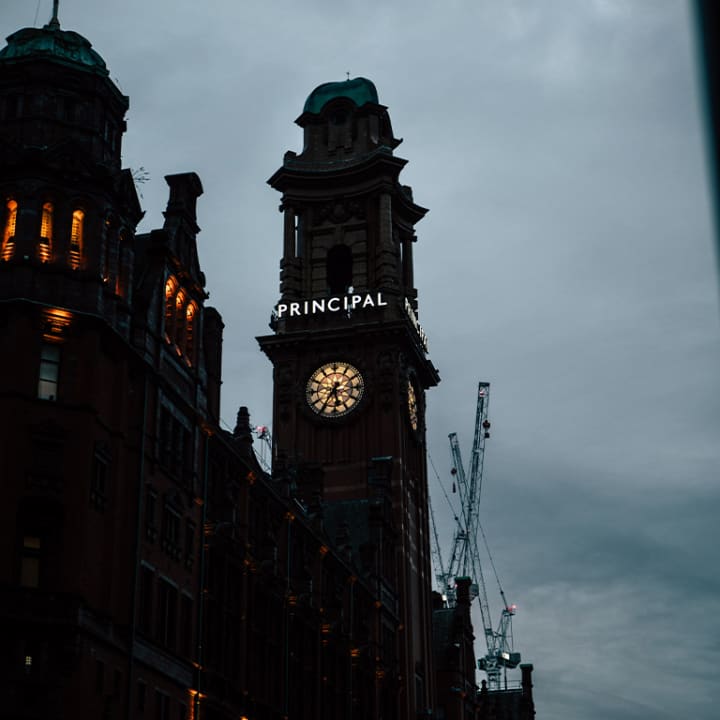 Manchester Ghost Tour: City Center Exploration Game
4. Jonathan Schofield's Halloween Ghost Tour
Hear tales from guide Jonathan Schofield of world-famous opera singers returning from the dead, the devil seizing souls and the Manchester Ophelia who when drowned wouldn't stay dead, in addition to the tragic tale of the lover who died of a broken heart following the gruesome execution of her sweetheart and how her anguished cries returned to haunt the city.
What's more, there are tales of enchanters, pig men and many other wonders of the supernatural world that have been handed down through the generations. All these stories are genuine Manchester stories and the tour will also reveal some of the rich history of this magnificent city. As well as the thrills there are lots of laughs on the tour – expect fabulous story-telling, drama and entertainment on a truly memorable occasion. Find more information and tickets here.
📍 Starts at Manchester Central Library, St Peter's Square, Manchester M2 5PD.
Explore the most frightful places in Manchester, with their stories of restless spirits, cruel murders and menacing ghouls. Solve 13 creepy clues to find out the true story of Loky, a Manchester student who drowned in the canal, killed by The Pusher, a serial killer prowling the canals of Manchester. Now a ghost, Loky has sent out a chain letter to a random address. He knows that The Pusher is the ghost of the mass murderer who hid his victims and their bodies in the Albert Hall and who now continues his murders by pushing people into the canals. Can you help stop The Pusher and release the ghost of his victims? Manchester needs you now!
📍Starts at 18 Lower Byrom St, M3 4AP.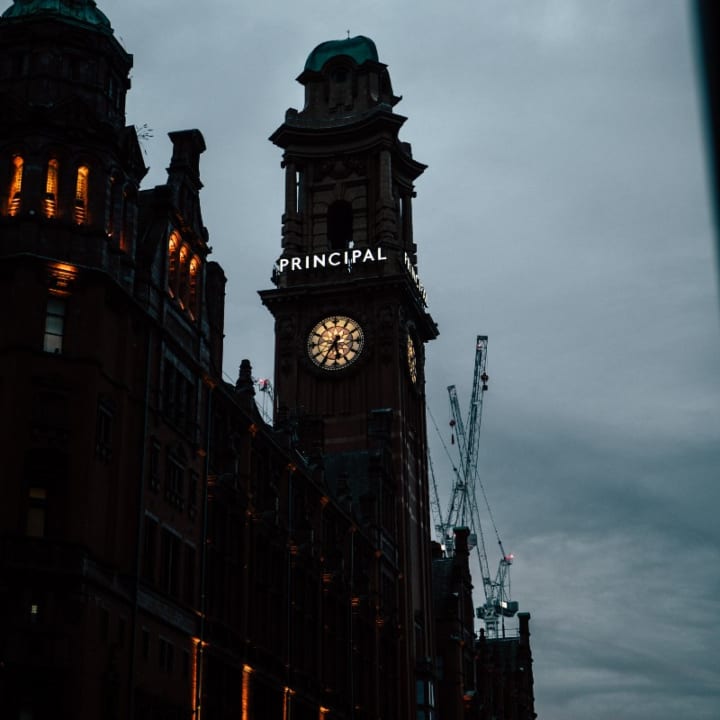 Haunted Manchester City Exploration Game
December 1, 2023 1:00 AM
£9.99
6. Uppermill Ghost Walk
On the misty Saddleworth Moor, out in the isolation, you will find a string of stories to read and clues to follow. This tour is a self-guided exploration – use your smartphone to download the storytelling app, and find your way using its guidance. You can choose to follow the ghost walk during the day or at night— are you brave enough to head out on the moors after dark?
Stop along the route include Saddleworth Museum & Art Gallery and Brownhill Countryside Centre, and the walk is said to require moderate fitness levels – and of course, nerves of steel. Find out more and get access here.
📍Starts at Civic Hall Lee Street, Uppermill, Oldham OL3 6AE.
7. Antwerp Mansion Ghost Hunt
Once a thriving student haunt (pardon the pun), an overnight ghost hunt at Antwerp Mansion in Manchester is destined to be a night that you will certainly never forget. With so many areas to investigate including the old ballroom, scullery and bedrooms, not to mention the dark and sinister cellars, this will be a ghost hunting experience that leaves you in no doubt about the existence of ghosts and spirits.
Visitors and ghost hunters have witnessed dark shadow figures and strange shape formations lurking around all areas of the mansion. Disembodied voices have been heard and growling is a regular sound often heard in the dark cellars. This ghost hunt at Antwerp Mansion really is a fantastic opportunity for those brave enough to spend the night ghost hunting. You will be working with our team in our attempts to make contact with the ghostly spirits that for whatever reason refuse to leave here. Very much giving Most Haunted vibes, do your best Yvette Fielding and book on here.
📍Antwerp Mansion, Kent Road West, Rusholme, Manchester M14 5RF.
---