Inmates, it's time to do the Cell Block Tango, because London's famous Alcotraz cocktail experience has finally come to town. Known as the 'bar behind bars', the new venue marks the notorious bar's first escapade up North, following the success of their bars in London and Brighton.
Tasking guests – or, should I say, 'inmates' – to smuggle liquor past the Warden and get it into the hands of some of Alcotraz's longest-serving inmates, guests will be able to channel their inner Piper Chapman (or Michael Scofield – whatever floats your boat!), before having their 'contraband' transformed into tasty cocktails to enjoy in their very own cell. A theatrical experience like no other in the city, Alcotraz houses up to 50 inmates across ten individual cells, with a Prison Commissary area also available for lower-priced seats.
Unlocking its doors in the busy Spinningfields area just this summer, the unique experience promises "world-class cocktails" and even your very own orange jumpsuit, with fun nods to the prison theme including liquor smuggled inside cooking appliances and cocktails served in discrete containers.
After the main experience, inmates can spend additional time within the theatrical prison world of Alcotraz: Cell Block Three-Four by purchasing a seat within the Prison Canteen area, to enjoy an inclusive cocktail and prison ration.
Sam Shearman, creator of Alcotraz and founder of Inventive Productions says: "The experience has been so popular within London that within a very short period of time we were able to grow the Alcotraz brand to have multiple sites, including one in Brighton. We are now absolutely thrilled to bring this unique concept to Manchester and launch our biggest and most ambitious Alcotraz to date."
Fancy trying out life behind bars? Bookings are open now, and you can book your table here.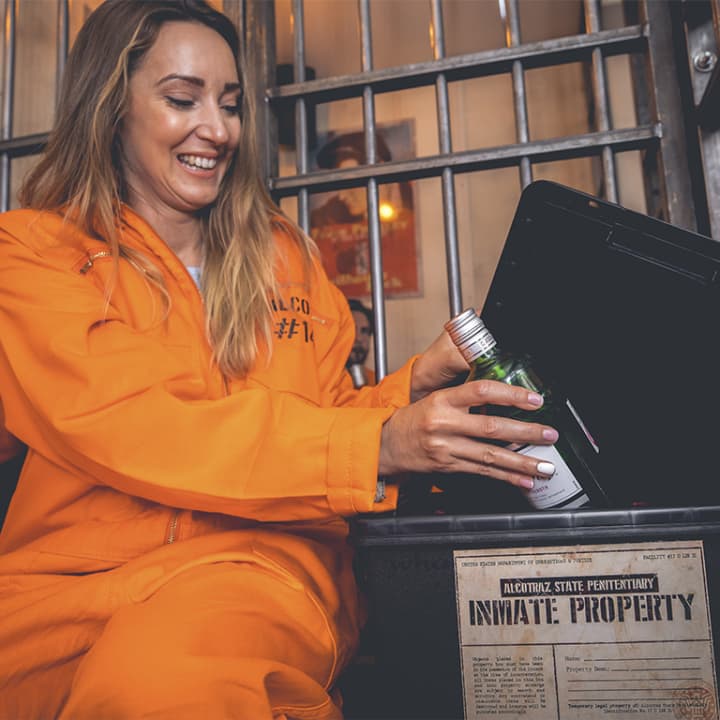 Alcotraz Prison Cocktail Bar - Manchester
December 1, 2023 12:00 AM
£39.99
---