Dust off your dancing shoes, dig out that sequin jumpsuit from the back of your cupboard and get ready to groove late into the night. The timeless sounds of Boney M will be floating from the colourful stained glass windows of Manchester Cathedral on October 5, treating disco fans to an epic evening of music, dancing and nostalgia. You can throw shapes on the historic venue's Grade I listed dance floor to their iconic 70s hits such as Rasputin, Rivers of Babylon, Brown Girl in the Ring and Daddy Cool. It's the night all your disco dreams come true.
With over 100 million records sold worldwide, multiple top 10 singles in the UK charts and a fanbase across the globe, Boney M know how to put on a dazzling performance. Add to that the centuries-old architecture of Manchester Cathedral and you're in for an unforgettable experience.
As the infectious rhythms of Daddy Cool, Rivers of Babylon and more fill the hallowed halls, you'll be channelling your inner Saturday Night Fever-era John Travolta with all the classic 70s dance moves: do the hustle under the nave roof, point your disco finger up to the ornate angel sculptures and get down low on the marble dance floor.
The concert is four hours in total, with two fabulous support acts to get the good times going from 7pm to 8.45pm and then Boney M lighting up the stage for a climactic last hour from 9pm to 10pm. So, with all that dancing you will need to hydrate. Luckily there will be a bar on-site, so you can grab a few bevvies to loosen up and get in the flow before the music gets into full swing. Just be warned, there is no food so you might want to grab dinner beforehand.
Whether you're a disco lover, fancy throwing it back to the 70s or simply want to let your hair down on the dance floor with your friends and some dance-inducing music, grab your tickets to see Boney M live today and you won't regret it.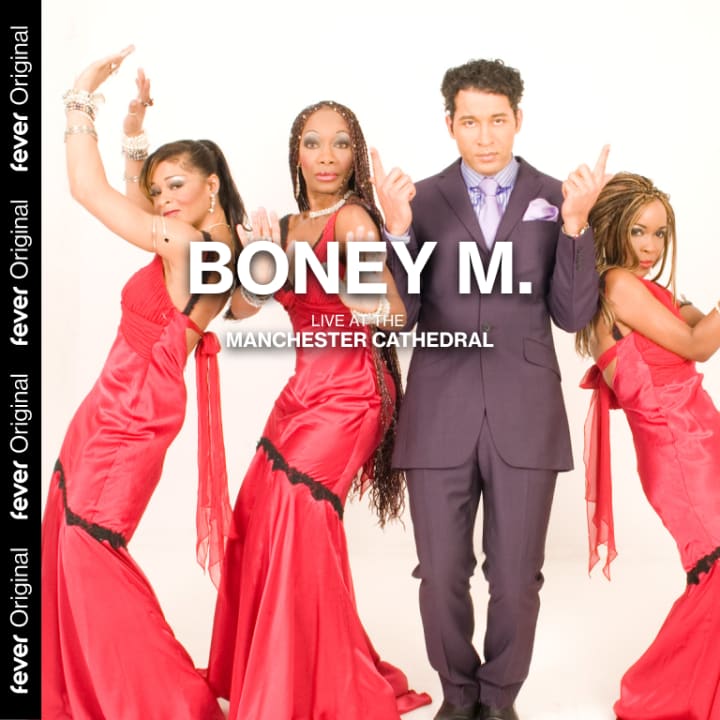 Boney M Live at Manchester Cathedral
October 5, 2023 6:00 PM
From £27.50
---